The 10 Biggest Social Media Successes & Fails of 2016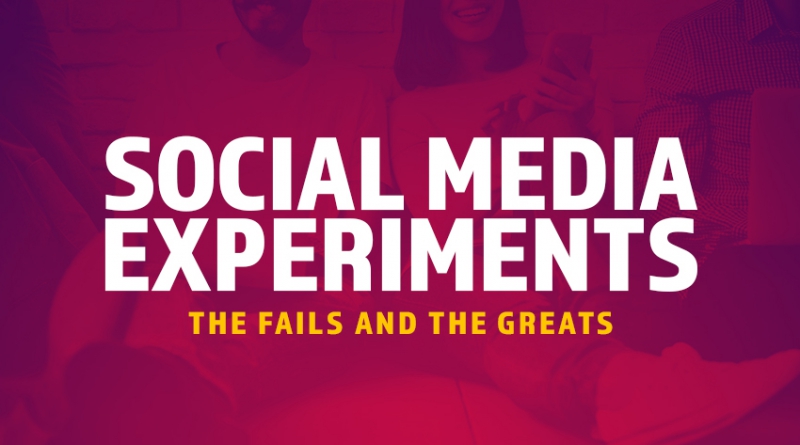 What a year it has been for social media – 2016 gave us plenty to talk about, with political events, world events, natural disasters, news, technology launches, celebrity gossip and plenty more.
Social media has exploded, and we've become a generation obsessed with networking.
Social networking sites also made a few changes this year. The most noticeable being Instagram, which decided to change its logo, algorithm and also decided to introduce Instagram stories, which sent users into a frenzy.
Here, we take a look back at some of the year's social media successes and fails. Although there were plenty to choose from, here are some examples of what worked and what really didn't…
The Successes:
Social influencers creating brands through social media
The success of Joe Wicks is just one example of how social media has been used this year to help launch the careers of some digital influencers. Wicks, a personal trainer and the creator of the Lean in 15 series, uses Instagram and Facebook to create his well known 'how to' cooking videos. The growth in his social channels this year have helped him to become a worldwide success and he now manages to turn over £1 million a month.
Charity challenges gaining momentum through social media
While there are always challenges going around on social media – such as the recent phenomenon of themannequin challenge – there are sometimes ones that have a defined purpose and are there to raise awareness. After the success of the Ice bucket challenge a couple of years ago, this year we saw the 22 Push-up challenge. This swept its way across Twitter, Instagram and Facebook and also managed to gain support from celebrities such as David Beckham and Rio Ferdinand. The challenge involved them completing 22 push ups a day for 22 days; people videoed themselves taking part, then tagged someone they knew to also participate.
Hasthtags being used to spread news and political matters
Twitter released a list of the top trending topics from 2016 and it will come as no surprise to see that #Rio2016 made it to number one as it was a world event – being watched by millions. However, 2016 saw the rise of hashtags being used to raise awareness for political topics, with #Election2016 coming in second in the top trending list. Twitter reported that the most shared election post was Hilary Clinton's message to 'little girls' when she conceded the election. Other political hashtags that made it into the list include #Brexit, #Trump and #BlackLivesMatter. With social media being used by millions of people across the globe, hashtags have become a fast way of spreading news and opinions.
Brands and Influencers working together
This year saw a range of brands working with a larger range of bloggers and YouTubers. One brand that did this well was skincare brand Kiehl's, when they took three influencers to Coachella. They used a mix of tweets, hashtags, Instagram takeovers, and the girls who attended also vlogged about the trip which all helped to gain a lot of coverage and interest. The brand also set up a page on their site with some of the influencers' favourite products, which helped direct fans back to the website and encouraged them to stay on the site and purchase products.
If you would like to see some more example of how brands have worked successfully with influencers, you can take a look at our previous piece The best blogger tips & tricks from 2015 – 2016.
Having a branded hashtag for TV shows and programmes
Most TV shows now come with their own hashtag for viewers to use when they're watching at home. This has helped TV shows engage with their viewers and also to create some 'free' publicity for the shows. A successful example of this would be The Great British Bake Off, who have a Twitter account just for the show. The account tweets a running commentary, puns, GIFs and also engages with users. There has also been a rise in the branded hashtag emoji this year with TV shows now jumping on board. Game of Thrones is a popular example, where users were engaging with the hashtag to see the emoji appear once tweeted.
The Fails:
Tay Tweets not working out for Microsoft
Earlier this year Microsoft tried to use an artificial intelligence bot which was plugged into Twitter to communicate with users. However this didn't go to plan and it was a short-lived experiment. The idea was that 'Tay' would converse with users, learn from them and get smarter, which is a great idea in theory. However, Microsoft didn't factor in Twitter trolls and the effect this might have on Tay Tweets. They also didn't put any filters on what Tay Tweets could say so it did cause some controversy and it didn't take long for users to encourage the account to tweet out hateful messages.
When employees tweet from work social account
Someone earlier this year decided to tweet Kayne West with their thoughts. Not necessarily a fail – but instead of using a personal account to do so, they used the Virgin Australia account. The tweet soon made its way around the internet and onto several news sites before it was taken down and an apology was issued. The lasting damage was done, however, and the airline ended up in the news for all the wrong reasons.
The death of social media platforms such as Vine
The announcement to close Vine came in October. According to some reports, Vine never recovered after the introduction of Instagram's video feature a few years ago. Some say it's also because many of Vine's biggest stars jumped over to more profitable platforms such as Facebook and YouTube.
When brands tweets don't always get the right response
Apple recently announced their long awaited Macbook Pro upgrade, which included their not-so popular decision to remove the SD card slot from the side of the machine. Razer, a gaming technology company, decided to try and make a joke about it. However, it didn't go down as well as hoped and caused a lot of backlash for the company, even after they apologised. Some users didn't like the fact they referred to it as the 'SD reader joke' and some didn't like the fact they even had to issue an apology at all for what was seen by some as a marketing joke.
When working with an influencer doesn't go to plan
It's no secret that brands will seek out celebrities to help promote certain products and back in May this year, Boo Tea decided to work with Scott Disick, part of the famous Kardashian family. While Scott agreed to work with them, he did unfortunately decide to copy and paste the email in which they stated what they wanted him to say to his 18 million followers. Not only did this expose the marketing team's efforts to get him to promote a product, it also raised questions as to why celebrities don't appear to be disclaiming that they've been paid using the appropriate #AD or #SPON like other online influencers have to do.
Now we've looked at some of the successes and failures of 2016, it's time to look ahead and see what will be popular for social media throughout 2017. Some of these trends are things we've already seen start to happen. Considering how quickly the social media world develops and changes, anything is possible.
Some social media predictions for 2017:
Video will become even more popular
There has already been a shift in people moving from reading blogs to watching videos on YouTube and other platforms, and this isn't likely to slow down over the next year. Consumers want information quickly and video is a great way to keep consumers engaged; Instagram introducing stories is an example of how a platform has recognised this and in 2017 other platforms will follow. There has already been the introduction of live streamed video such as Facebook Live and Periscope but these will continue to gain popularity throughout 2017 as more users chose to share their lives through video.
When considering how best to engage with audiences and consumers, brands will have to acknowledge this method of communication and examine ways in which they can incorporate it into their future social plans. It could be through more live streamed videos which are spontaneous, or it could be through heavily edited videos such as YouTube. Deciding which fits better for the brand is key, as well as identifying the people you're trying to target.
Oculus Rift
Oculus VR, the virtual reality company, was purchased by Facebook in 2014 and after a recent developer's conference, Facebook talked about the concept of 'Social VR'. When the world's largest social networking company buys out the biggest virtual reality company, it can be a sure bet that a virtual social networking is soon to follow, which will allow Facebook to stay at the forefront of social media.
Brands can now become more creative in how they interact with consumers. With platforms such as Facebook taking on Oculus VR, marketing will have to incorporate this. Brands can target consumers through this virtual reality and possibly create unique and engaging content for this platform. This will have to be considered when thinking about reaching certain consumers.
Increased personalisation
With the amount of data now available, ads will now become much more targeted towards the right people on social media across all platforms including Facebook, Instagram, Twitter, Snapchat and Pinterest. With so much content available online, it's more important than ever to have this directed at the right people to make sure it's as effective as possible. Having targeted ads and content will really help with this.
Using data from consumers' emails, log ins, social media and recent searches will help to determine what adverts to target them with. When planning campaigns, the personas created become the people who are targeted and the data found from users online can help brands really start to increase personalised adverts. There is a line not to cross though. The majority of users may be happy with personalised marketing, but some consumers don't want it to be too intrusive to their privacy.
Expiring and time sensitive content
This will help to keep users engaged as the content or features keep changing, Snapchat already has this feature with its filters changing regularly and the use of seasonal and promotional filters. It will be interesting to see how other platforms embrace trend throughout 2017.
As time sensitive and branded content becomes more popular, such as the snapchat filters, marketing teams will have to think about how they can incorporate these features into marketing plans. This might also help brands to become more creative when it comes to launches, special occasions or promotions as it means the content created will be available for a certain amount of time only. Having videos, filters, geo locational content and other promotions available for a limited time helps to increase user engagement because users want to get involved. This is something that marketing teams will have to consider using.
Social influencers still on the rise
Social influencers are going nowhere and will continue to dominate in 2017. Some social media stars are now doing better than traditional celebrities when it comes to followers, popularity and brand deals. With social stars gracing the cover of magazines in 2016, the next year will help propel some of them fully into the starlight. It will be key for brands to consider working with influencers over the next year because these 'key leaders' are people who have managed to earn the trust of your target audience. One great way to target that audience is to build relationships with the influencers, helping you gain this engaged audience and allowing you to gain access to this loyal following.
CNN recently just bought Beme, a start-up technology/social media company which was co-founded by Casey Neistat, a very successful YouTuber, and Matt Hackett, who previously worked at Tumblr. The app never really took off and it hasn't been as successful as they possibly had hoped. However, CNN looked past this and hasn't bought the app company for the product. Instead they want the audience and following that comes with this. Together with Casey, who has over 5.9 million subscribers on YouTube, they want to create something unique and interesting, so they've bought the creative influencer in house almost by buying his start-up company. It's yet to be seen how this partnership will work and what they will produce, but it shows that big companies are taking note of these online social influencers and are wanting to work together with them.
Not every brand can afford to bring influencers in house and certainly not buy their companies, but it should be carefully considered how brands and influencers can work together. This will mean that when thinking about marketing plans, influencers will be considered. It isn't traditional methods of promotion that help bring in new consumers; social media influencers can help bring in the large traffic too.
Utilising these different trends in your marketing plans for 2017 will help you to stay up to date with the ever changing world of social media and ensure your brand remains in touch with users.